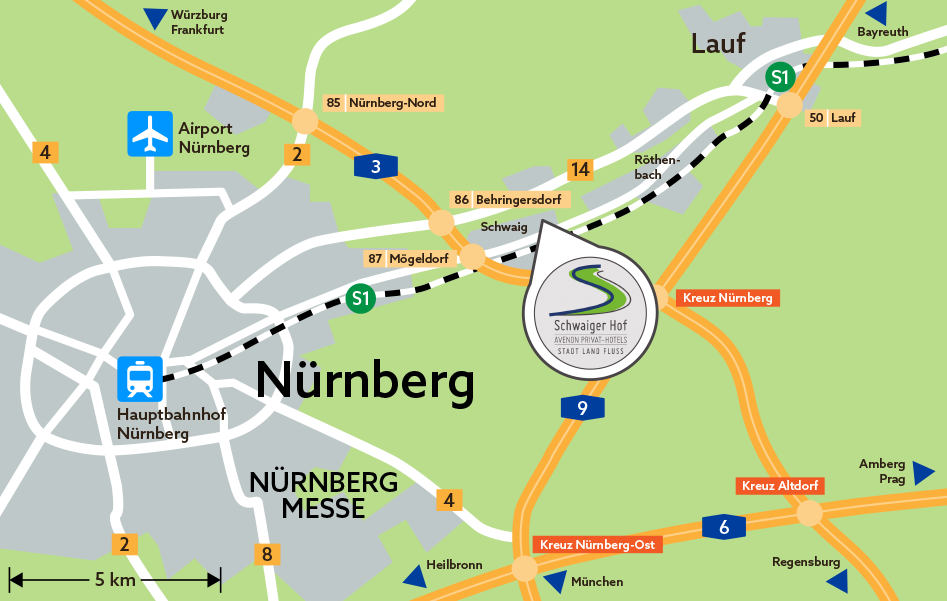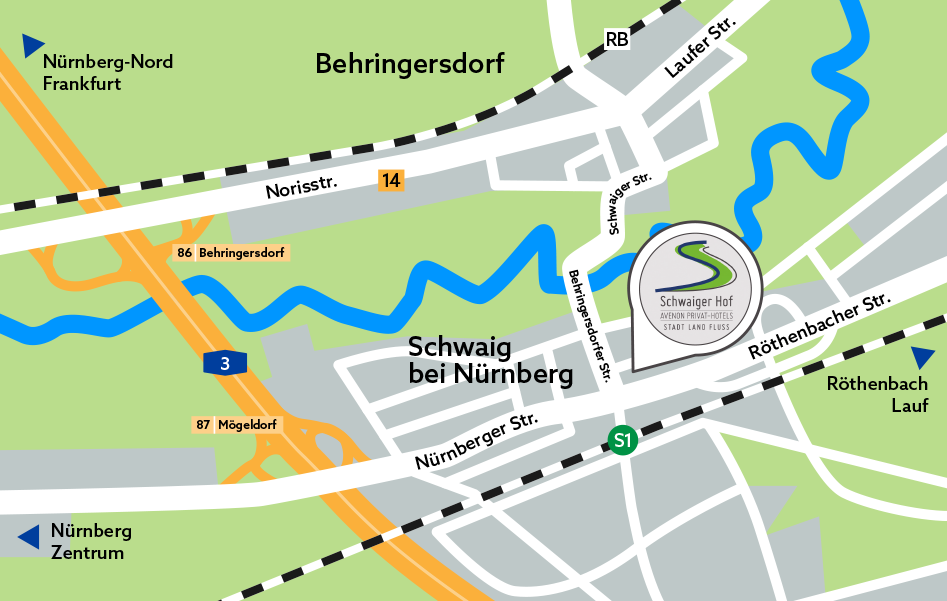 Arriving from Munich, Berlin, Heilbronn via the Nuremberg interchange, continue towards Würzburg on the A3 to exit no. 87: "Nürnberg-Mögeldorf, Schwaig", take the exit and turn in the direction of Schwaig. After approx. 1 km you will find us in Schwaig in the center of the town on the left side, opposite the Sparkasse. Two flags on the sidewalk mark the hotel entrance, which is slightly set back. Destination for navigation systems: please select "90571 Schwaig / Nuremberg" (90571 Schwaig bei Nürnberg) first, then enter "Röthenbacher Straße".
The distance from the airport to the hotel is approximately 17 km. It takes about 20 minutes to reach the hotel. The Taxi fare is about 28,00 to 35,00 €. Or, you can take the underground line U2 to Nuremberg main station.
From Nuremberg main station, take the S-Bahn (urban railway) line S1 towards Lauf (departure from platform 3), exit at the stop "Schwaig" and cross under the tracks.
From our hotel to the NürnbergMesse
The NürnbergMesse ("Nuremberg Fair") is only 15 km away.  From Nuremberg main station, take the subway line U1 towards "Langwasser" to the "Messezentrum" stop. The journey with S/U-Bahn takes about 30 minutes to the main entrance of the NürnbergMesse.
Our reception is open from Mon – Fri, 6.00 – 23.00, Sat and Sun and on holidays from 7.00 – 12.00 and from 17.00 – 22.00. Please inform us if you are arriving outside the reception hours. The Schwaiger Hof team looks forward to your visit and wishes you a pleasant journey.
Imprint       Data Protection
Avenon Privat-Hotel Schwaiger Hof, Röthenbacher Straße 1B, Schwaig bei Nürnberg, Germany, Tel. +49 911 5069890, sh@avenon.de